As a financial blogger and soon-to-be new father (baby boy due early January, 2015), I thought it would be a fun idea to combine the two roles and take a look at what it costs to raise a baby for the first year of his or her life. I am planning on summing the costs up in four separate quarterly reports.
The four reports shall be broken down into the following time frames:
Pre-Birth Costs
1-4 months
4-7 months
7-12 months
There are no headings or section topics for reports 2, 3, and 4, because I do not know what to expect as a new father. At this point there are a lot more unknown variables than anything. I have a financial plan in terms of starting an education fund and a never ending need for diapers, though! That said, for the most part I will be feeling around in the dark for a great deal of what's to come.
Accounting
I will be recording all associated costs even if the item/event was gifted by family or friends. As a result of having received much of what is listed through two incredibly successful baby showers, the reality is that my wife and I did not incur many of these costs directly. We were given an unbelievable amount of baby items and baby-related gifts from the exceptionally generous people in our lives (which we are very thankful for). I still feel it is important to account for these costs, though, as someone who did not receive the items would be compelled in many cases to pay out-of-pocket.
These stats may be unreflective of the costs to raising a child in North America depending on one's circumstances. Everything I list will be specific to my situation and choices as a parent, while there may be broader similarities for others as well. For example, the interactions I have with the Canadian hospital system will be significantly cheaper than our American reader's experiences. If not, please leave a comment and let me know.
At the end of the day this is a fun side project for me to try and document for the sake of the blog, and my own personal curiosity. In some (maybe many) cases we probably went overboard, but from what I understand that is itself normal for a new parent!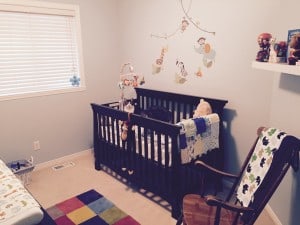 Pre-Birth Costs
Carpet cleaning in nursery – $100.00
Painting the nursery (paint and painters) – $225.00
Crib and mattress (on sale this past Black Friday) – $350.00
Sheets/mattress cover – $60.00
Mobile for the crib – $25.00
Dresser (with changing pad on top) – $280.00
Diaper genie including replacement bags – $70.00
Diaper bag – $50.00
Wall mounted shelf – $40.00
Three pictures in frames and wall decals – $60.00
Rocking chair and stool – $120.00
Small multi-colored rug – $35.00
Clothes (newborn and months 0-3: indoor, outdoor, hats, socks, etc.) – $350.00
Baby accessories (diapers, wipes, diaper rash cream, bottles, soothers, burping towels, thermometer, sanitizers) – $350.00
Baby toys (including rattles and books) – $100.00
Baby blankets – $100.00
Bath time accessories (bath tub, soap, lotion, baby powder, towels, face cloths) – $100.00
Infant car seat/stroller – $400.00
Play pen/bassinette/baby bouncing chair/baby swing – $360.00
Breast pump/Breast pads – $525.00
Maternity clothes and nursing bras- $280.00
Total: $3980.00
Hospital Costs/Fees (Canadian)
Ultrasound pictures (CD) – $20.00
Hospital parking (four trips x $5.00 each) – $20.00
Doctor's note for maternity leave – $50.00
Prenatal classes – Free, and well worth the time spent listening
Total: $90
Well, the total costs so far have amounted to a whopping grand total of $4070.00 (Canadian) – and our baby isn't even here yet! I am sure there are some more interesting financial hurdles that await. We noted above, we were fortunate to have received above average assistance from our friends and parents. We spent well under $1000 in preparing for the new addition to our family – notwithstanding the sweat equity of writing many hours' worth of thank-you notes!
I have heard many financial gurus use a saying that goes something like this: "Having a child today is just as much a financial decision as it is an emotional one." I cannot stress how truthful that statement is.
Conclusion
Going forward my cost analysis will be easier to get exact numbers from, such as lost wages suffered from my wife being on maternity leave and ongoing expenses from everyday baby needs.
Regardless of the costs associated with raising a child, I am simply looking forward to watching my son grow. There is no greater gift in this life than having the chance to raise and develop another. Having the opportunity through this four-part series to help other couples considering starting a family is something I am most excited for.
Thanks for reading – and wish me luck!
– Rick
What have you experienced as a new parent from a financial perspective? What were you not expecting?
Pictures courtesy of pixabay.com