As a dividend growth investor, I am driven to keep track of both my inflows and outflows. Increases in investment income represent one measure to assess whether I am winning or losing the game of money. After spending a full year tracking my dividend income on a monthly basis, I have noticed that I have a much better understanding of how my portfolio functions.
I have also improved as a capital allocator as I am not allowing dividends to sit idly for as long before putting them back to work to keep the dividend compounding machine firing on all cylinders.
CAD Dividends
| Company | CAD Payments ($) |
| --- | --- |
| RioCan Real Estate Investment Trust (REI.UN) | 31.32 |
| Chartwell Retirement Residence (CSH.UN) | 5.00 |
| Metro Inc. (MRU) | 4.00 |
USD Dividends
| Company | USD Payments ($) |
| --- | --- |
| AbbVie Inc. (ABBV) | 40.02 |
Dividend Summary
November brought in C$40.32 and U$40.02, combining for a currency-neutral total of $80.34. This is not unusual for the November payment period; it tends to be among the lowest on the dividend schedule for my portfolio.
Having said that, I was a bit surprised to note that this was actually my highest paying November on record: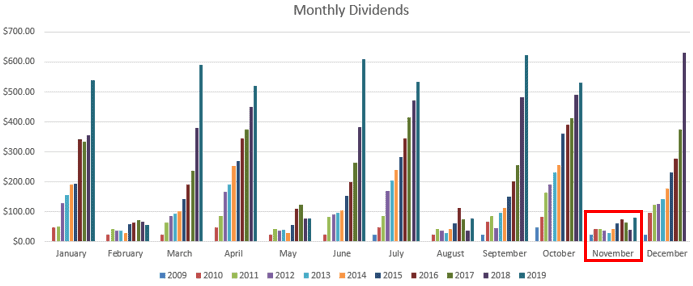 Of the four companies I received income from, the only one I have any intention to consider adding more capital to would be ABBV. It has had a volatile year and, should the opportunity present (subject to available capital), I would consider increasing my stake.
Year To Date Progress
While I have been consistently tracking my dividends in monthly articles, I feel it is useful also to provide the higher-level-view within each monthly rundown. Here are the monthly tabulations:
| Month | Dividends ($) |
| --- | --- |
| Total | 4,233.83 |
| January | 540.02 |
| February | 54.41 |
| March | 591.07 |
| April | 521.00 |
| May | 76.34 |
| June | 608.09 |
| July | 533.85 |
| August | 76.34 |
| September | 621.73 |
| October | 530.64 |
| November | 80.34 |
As we open the book on December, my portfolio is poised to close out the year with ~$4,900 in total dividend income.
Market Activity
The market has continued to remain strong, discouraging me from making any sizeable investments. However, I did nibble with another purchase of Corby Spirit and Wine (CSW.B).
I added 70 shares for a cash outlay of C$1,094.95. On the quarterly dividend of C$0.22, I expect this to bring in C$15.40 per quarter or C$61.60 annually.
CSW.B has been my worst performing company I've ever purchased as far as capital appreciation is concerned ever since I bought it for the first time at the end of 2014. However, the company has no debt and has consistently maintained its lofty dividend. Further, I did receive special dividend payments in 2016 and at the beginning of this year, over and above the regular quarterly payout.
Generally speaking, I like being invested within the alcoholic beverage industry as people tend to be quite brand loyal when it comes to their choice of drink. They order what they would like by name and are unlikely to switch brands just because of a nominal price increase. That said, I do not presently have any intention of increasing my position further at this stage; I was more interested in averaging down in a company I feel should be relatively secure as far as maintaining current dividend levels.
Cash
As ever, I have continued adding to my cash position at my current interest rate of 2.75%. This special rate expires at the end of January 2020, though, and so I will need to eventually start thinking again about where to store my idle cash. Prevailing standard rates remain pitifully low.
Conclusion
November is habitually a slow dividend payment month and this comes as no surprise. At this stage, my focus is on the December payments which tend to be the highest of the year in my portfolio.
I have moved some capital to my investing account and am hoping for some end-of-year bargains to close out the season which would provide a springboard for a successful 2020.
Thank you for reading.
– Ryan
Full Disclosure: REI.UN, CSH.UN, MRU, ABBV, CSW.B