As a dividend growth investor, I am compelled to keep track of both my inflows and outflows. Increases in investment income represent one measure to assess whether I am winning or losing the game of money. After spending a full year tracking my dividend income on a monthly basis, I have noticed that I have a much better understanding of how my portfolio functions.
I have also improved as a capital allocator as I am not allowing dividends to sit idly for as long before putting them back to work to keep the dividend compounding machine firing on all cylinders.
CAD Dividends
| Company | CAD Payments ($) | Div Increase (%) |
| --- | --- | --- |
| Toronto Dominion Bank (TD) | 59.20 | 10.45 |
| RioCan Real Estate Investment Trust (REI.UN) | 31.32 | |
| The Coca-Cola Company (KO) | 71.02 | 2.56 |
| BCE Inc. (BCE) | 174.35 | 4.97 |
| Canadian Imperial Bank of Commerce (CM) | 16.80 | 2.94 |
| Bank of Nova Scotia (BNS) | 87.00 | 2.35 |
| TELUS Corporation (T) | 38.15 | |
| Rogers Communications Inc. (RCI.B) | 27.50 | 4.17 |
| Canadian Pacific Railway Limited (CP) | 3.90 | |
| Chartwell Retirement Residence (CSH.UN) | 5.00 | 2.04 |
USD Dividends
| Company | USD Payments ($) |
| --- | --- |
| Walmart Inc. (WMT) | 6.76 |
Dividend Summary
April saw totals of C$514.24 and U$6.76. This means I was able to once again earn the better part of a thousand dollars with a currency-neutral total of $521.00. This exceeds last April's total by $70.99: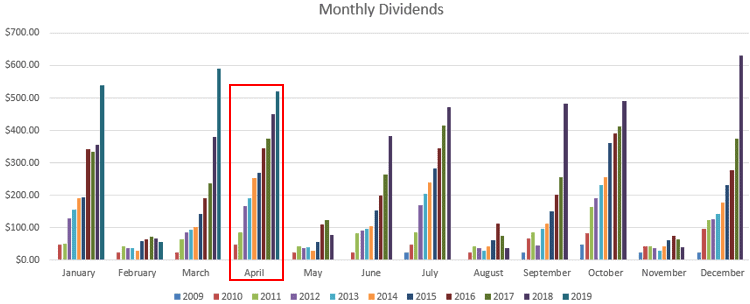 Quite a few of my companies rang the cash register with higher totals based on the modest, previously announced dividend raises. It always feels great to be making steady progress forward at a rate that exceeds inflation as this is how wealth is generated in real terms.
Market Activity
I made a single stock purchase in April which came from accumulated dividends which had been sitting idle in my trading account.
I added to my position in T with 20 more shares for a total cost of $999.95. This should bring in $11.25 quarterly or $45.00 annually based on the current quarterly dividend of $0.5625. I feel I paid a bit too much for the shares, but I wanted to keep the forward progress going. Further, from a business standpoint, I believe that T has huge opportunities in healthcare which are rarely discussed.
Since T is a telecom, most analysis focuses on the wireless business (which, of course, is a huge part of what the company does) while missing the opportunity for offering Electronic Medical Record (EMR) solutions. Canada is years behind other countries such as the U.S. when it comes to developing digital solutions to previous/current paper health records and so the opportunity to get in at this time is considerable. Further, T is able to leverage its strong brand name when entering into negotiations to earn contracts.
I see a long runway for growth with T both on the telecom side and within the healthcare field. As a result, I am okay with "paying up" a bit for the shares when I know that I fully plan to be with the company for decades to come.
Cash
I remain comfortable sitting on a 3% interest rate with my sidelined cash. I would optimally be deploying more than I am into stocks, but I am doing the best I can to be patient as prices don't seem to be budging downward at the moment in any meaningful way. Perhaps all of this tariff talk between the U.S. and China will yield some opportunities.
Conclusion
April was a solid month for the portfolio. I was once again able to bring in over $500 for the third time this year, whereas I was only able to do so once in 2018. This appears to be the new normal for my portfolio (excluding the Feb-May-Aug-Nov payment schedule) and is now beginning to really get the dividend reinvestment snowball churning.
Adding to my position in T is a move I feel good about based on it being on the proper curve if where business and healthcare are headed in the years to come.
Thank you for reading.
– Ryan
Full Disclosure: Long TD, REI.UN, KO, BCE, CM, BNS, T, RCI.B, CP, CSH.UN, WMT