As a dividend growth investor, I am driven to keep track of both my inflows and outflows. Increases in investment income represent one measure to assess whether I am winning or losing the game of money. After spending a full year tracking my dividend income on a monthly basis, I have noticed that I have a much better understanding of how my portfolio functions.
I have also improved as a capital allocator as I am not allowing dividends to sit idly for as long before putting them back to work to keep the dividend compounding machine firing on all cylinders.
CAD Dividends
| Company | CAD Payments ($) | Div Increase (%) |
| --- | --- | --- |
| RioCan Real Estate Investment Trust (REI.UN) | 31.32 | |
| Johnson & Johnson (JNJ) | 80.00 | 5.56 |
| Corby Spirit and Wine Ltd. (CSW.B) | 50.60 | |
| Fortis, Inc. (FTS) | 72.00 | |
| Canadian Utilities Limited (CU) | 84.54 | |
| Canadian National Railway Company (CNR) | 8.06 | |
| Hydro One Ltd (H) | 62.79 | 5.00 |
| Chartwell Retirement Residences (CSH.UN) | 4.90 | |
| Metro Inc. (MRU) | 4.00 | |
| Brookfield Renewable Partners L.P. (BEP.UN) | 132.36 | |
USD Dividends
| Company | USD Payments ($) |
| --- | --- |
| Waste Management, Inc. (WM) | 21.79 |
| McDonald's Corporation (MCD) | 20.71 |
| Yum! Brands, Inc. (YUM) | 13.93 |
| Yum China Holdings, Inc. (YUMC) | 3.98 |
| PepsiCo, Inc. (PEP) | 7.89 |
| Wal-Mart Stores, Inc. (WMT) | 6.76 |
| Visa Inc. (V) | 2.13 |
Dividend Summary
June clocked in with $530.67 CAD and $77.42 USD in dividend payments. In currency-neutral terms, this equates a grand total of $608.09 and is significant both because it is the first time I've topped $600 in 2019 and is also the second time I've done so at all, with December last year being the initial breaking-of-the-ice. As this chart displays, I trounced my previous June high of $382.96: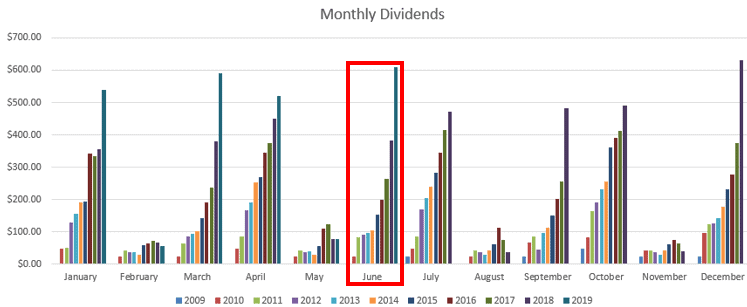 There were no dividend surprises this month. JNJ and H bumped their dividends in the ~5% range while the rest held steady with previous payouts. The steady as she goes mantra suits the dividend growth style as the companies it attracts tend to be reliable over time.
Year To Date Progress
While I have been consistently tracking my dividends in monthly articles, I feel it is useful also to provide the higher-level-view within each monthly rundown. Here are the monthly tabulations:
| Month | Dividends ($) |
| --- | --- |
| Total | 2390.93 |
| January | 540.02 |
| February | 54.41 |
| March | 591.07 |
| April | 521.00 |
| May | 76.34 |
| June | 608.09 |
As we hit the midpoint of 2019, I am comfortably ahead of my 2018 totals which were $1,711.89 in dividend payments. While I haven't been buying equities as aggressively through this year, the purchases I made in 2018 are showing their colours to carry the gains.
Market Activity
June was devoid of buys and sells. I was tempted to pick up some more AbbVie Inc. (ABBV) when the stock tanked by more than 10% after announcing its bid to acquire Allergan (AGN). However, I did initiate what I considered to be a full position between November 2018 and this January and so I've held off. At this stage, I would truly rather diversify my holdings into other quality names rather than continue doubling down.
Still, my general mindset as an investor to take advantage of temporary weaknesses in my positions to acquire higher yields which can supercharge the compounding process when given decades to run. If ABBV stock remains depressed over the coming months and the funds avail themselves, I could see myself dipping in at least once more.
Cash
My 3% interest rate from Tangerine expired at the end of the June and so I've decided to move my holding cash back to CIBC to take advantage of the 2.4% I am receiving there. Idle cash should always be put to work; the compounding machine respects inputs from all sources.
I've also moved some capital to my discount broker so it is ready to invest when a tempting opportunity presents itself. I am hoping to make July an active month.
Conclusion
I continue to close in the four-figure dividend income barrier for a single month. This bodes well for the future as higher dividend payments means a stronger ability to compound at ever-quicker rates.
While stocks remains elevated overall, I am hopeful that opportunities may yet be offered up by Mr. Market in the near term. Turbulence is the friend of the patient, long-term investor.
Thank you for reading.
– Ryan
Full Disclosure: Long REI.UN, JNJ, CSW.B, FTS, CU, CNR, H, CSH.UN, MRU, BEP.UN, WM, MCD, YUM, YUMC, PEP, WMT, V, ABBV